TESTIMONIALS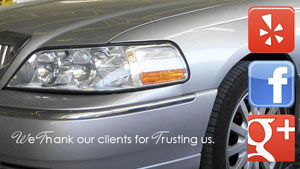 We value our customers and appreciate the testimonials included below. Our gratitude extends to our corporate clients including the management and staff of In-N-Out Burger and the California Highway Patrol.
At West Coast Auto Body we continue to look for ways to improve our service. We are appreciate your time in taking a moment to leave a review of your recent experience on your preferred review website or one of these:
"My wife and I thank you for your professional service. We are very happy with the work done on our vehicles. We will surely recommend your shop to our family & friends."

—Bill & Jeannine S.


"Thank you so much, Frank! for all your efforts to find the part for my car."
—Jacob W.


"Thanks for your great service!"
—David


"I wanted to express my thanks...Frank at West Coast Auto Body took great care of me and had my car fixed in two working days. He and his team were very professional and helped me feel good after the disaster I had with another shop."
—Robert E., Diamond Bar, CA


"I am grateful that we finally found a quality facility and group of people to work with!"
—Steve S., San Gabriel, CA


"I just wanted to take a minute and than you personally for your kindness and compassion. Especially in today's market place it is rare to see these acts of kindness. Thanks for making our employees feel extra special."
—Aaron D., Puente Hills Subaru


"Just a little THANK YOU to you and your staff for everything you have done for me and my vehicle. I really appreciate it and all your kindness and friendship. Thank you so much."
—Teresa G.


"My insured was very pleased with West Coast Auto Body. He said Frank and Debbie were a great help. They also helped me in providing great customer service for our insured. I just wanted to drop a note to make sure they got credit for it."

—Vladimir L., Highland Claims


"I wanna give a big shout out to West Coast auto body in City of Industry for the impressive work they did on our 2007 Subaru. I had a few unfortunate things happen to the vehicle and needed repairs quickly. I called up the appropriate people to help out with the damages, and the car was soon dropped the car off at West Coast. Frank, (General Manager) was immediately responsive to what I needed repaired. We did a walk around the vehicle and when I thought I had pointed out to him the majority of the damages, he pointed out several additional things that I had missed, which showed me he had a good eye. Then we did another quick overview of the repairs, he assured me that the vehicle would be taken care of, and I was on my way. Before I left, I also found out that the main painter who does all the Subarus at the shop owns an STI. So, it was great to know that my Subaru was in good hands. Frank kept me informed throughout the process with a few phone calls for over the course of the next two weeks which kept my mind at ease. After just 15 days, I got a call and was told the vehicle was ready to be picked up. When I arrived the following day, I found that the vehicle, which was once a little rough in some spots, now looked brand new! I was thoroughly impressed! The shop used all OEM parts and the paint is deeper and brighter in color. But more importantly, the ease, and professionalism displayed throughout the entirety of this process impressed me most of all."
—Jared P., Canyon Country, CA